Trump's top diplomat tells Biya to end bloodshed in Cameroon
freelafric, 3 years ago
0
4 min

read
787
Date: March 18, 2019
The United States Assistant Secretary of State for the Bureau of African Affairs, Mr. Tibor Nagy, on Monday met with President Paul Biya of Cameroon and "encouraged an end to violence and inclusive dialogue in the Northwest and Southwest Regions," he said in a tweet.
Secretary Nagy also discussed human rights violations by Cameroonian security forces.
"Today President Paul Biya and I discussed the way forward in our bilateral relationship, security assistance, and human rights concerns in #Cameroon. I also encouraged an end to violence and inclusive dialogue in the Northwest and Southwest Regions," he said.
It was his fourth and final stop on a four-nation tour of Africa that has also included visits to Uganda, Rwanda and the Democratic Republic of the Congo.
President Biya also announced their meeting in a tweet in French and English with a picture of both of them, but it was not yet clear what they discussed.
"Today, I granted an audience to Mr Tibor Nagy, the Assistant Secretary for U.S. Department of State's Bureau of African Affairs," he said.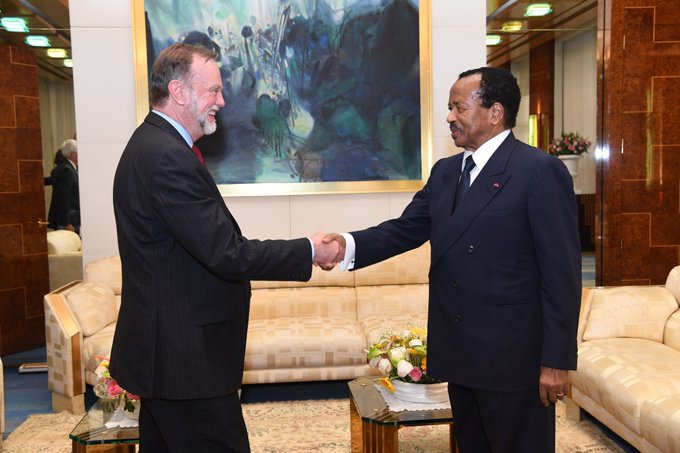 Secretary Nagy who briefed journalists at the presidential palace after meeting President Biya said the discussions were constructive but confidential before he tweeted details of the encounter.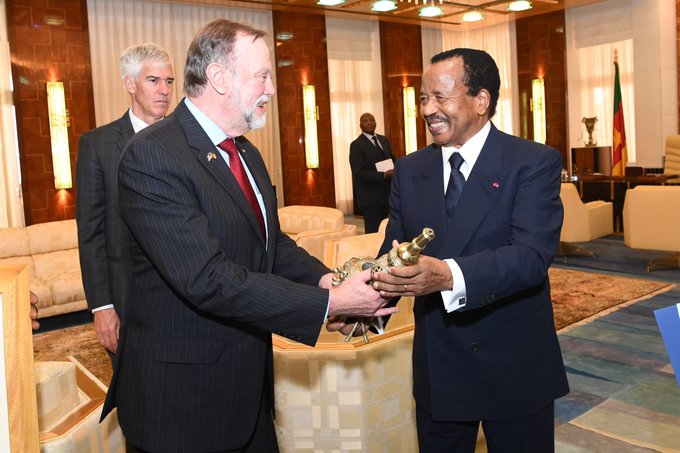 On his first day in Cameroon on Sunday, Secretary Nagy visited Crelicam, an ebony processor owned by American guitar maker Taylor Guitars.
"This partnership responsibly harvests ebony and shows how U.S.-Cameroon trade can improve the economies of both our countries while also helping the environment," the United States Embassy in Cameroon tweeted.
Secretary Nagy also met with the American Chamber of Commerce in Douala to discuss trade and investment between the United States and Cameroon.
"Participants highlighted Cameroon's great economic potential and suggested ways to improve the business climate,"the U.S. Embassy said.
While things were smooth in Douala, Cameroon's economic hub, in Yaounde, the capital on Monday, President Trump's diplomat was expected to confront social issues with President Paul Biya.
Cameroon, long described as one of the most stable countries in central Africa, has been embroiled in a regional war against Boko Haram terrorists since 2014, and an internal conflict between the central government and Anglophone separatists in the Northwest and Southwest regions since late 2016.
Nagy's visit comes days after the State Department released its 2018 human rights report, and concluded that gross violations continue to occur in Cameroon.
As Boko Haram terrorists massacre civilians in Cameroon, security forces also often engage in extrajudicial killings in the country's far north where the conflict continues to rage.
It is the same situation in dealing with Anglophone separatists. Both sides, in order to advance their own agendas, often end up using excessive force, including killing and kidnapping innocent civilians.
In a telephonic press briefing from Kigali in Rwanda early last week, Mr Nagy called for dialogue in Cameroon to stop the more than two years of bloodshed. "My heart breaks" about Cameroon, he told reporters.
Secretary Nagy's visit, officials in Washington D.C. say, aims at advancing the constructive partnership the United States and Cameroon have enjoyed since the establishment of bilateral relations in 1960 when the central African nation gained independence from France.
Both governments would reaffirm the desire to work together to eradicate terrorism and piracy, promote regional security and stability, and advance economic growth and environmental protection.
While in Cameroon, Assistant Secretary Nagy's activities will include meetings with Cameroonian government officials and a visit to a U.S. company that has a presence there.
Both nations have been collaborating over the years on an increasingly diverse range of issues that are of enduring importance to both nations and the entire continent.
Related posts