Separatist fighters kill pastor for challenging them
freelafric, 1 year ago
0
2 min

read
147
Ambazonia fighters in Batibo, Northwest region have killed a Bible Translator, collaborator of COMINSUD, and Pastor of the Apostolic Church, Tanjoh Christopher.
He was shot on the leg on Thursday, August 6, 2020, by Separatist fighters after he allegedly sent an audio to one of the "generals" questioning why they had to force locals to contribute money for them.
The man of God bled to death after losing much blood before he could be taken to the hospital.
STATEMENT ON DEATH OF AID WORKER WITH COMINSUD
Tanjoh Christopher Fon, a humanitarian aid worker working with COMINSUD was murdered on Friday 7th August 2020 in Batibo Sub Division in the North West Region of Cameroon. He was serving with COMINSUD as a field agent for the general food distribution project supported by the World Food Program (WFP) to affected and displaced persons in the Guzang cluster.
Tanjoh Christopher was abducted from his home by armed men at about 9.00 am that morning and at about 11.00 am and the family was alerted that he had been abandoned at the entrance to the St John of God Hospital Batibo bleeding to death.
According to concordant sources including his immediate family members his "crime" was that he denounced the excesses of the armed men on the civilian population they claim to protect. In audio made in the Moghamo local dialect and sent to an "Amba captain", whom he calls his "junior brother", Christopher is heard advising him against greed and extortion. He also condemns kidnappings and extortion of ransom from the population they claim to protect. He says they could not claim to "… be fighting against La Republique when at the same time they were terrorising the population." He concludes that as a Pastor and the God he serves, he would always stand for the truth.
"We think that as an older person and pastor he did just what he was supposed to do. Civilians should not be the target and the object of the current armed conflict. If people are to fight for the population they should not also make the population suffer. By every standard civilian especially aid workers need protection within the context of the conflict between persons in arms."
We continue to appeal for the protection of humanitarian aid workers and the vulnerable population especially by all parties involved in the long-standing crisis in the North West and South West Regions since 2017.
We remain deeply saddened by this horrific execution of a humanitarian.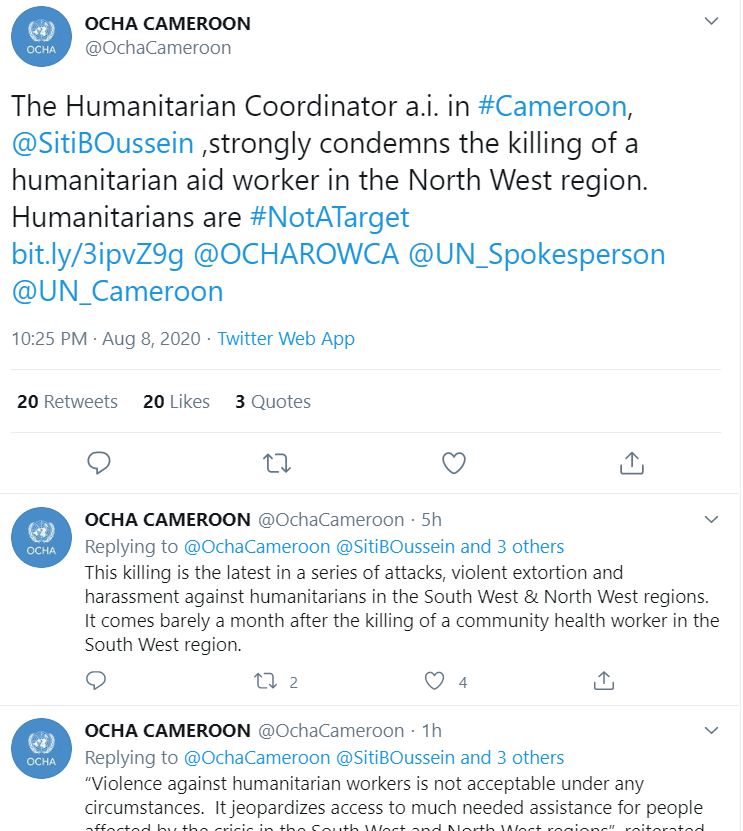 The Office for the Coordination of Humanitarian Affairs in Cameroon, OCHA, has also condemned the killings, adding that violence against any humanitarian worker is not acceptable under any circumstances.
Related posts