Cameroon: Religious leaders shame government's military crackdown in Anglophone regions.
freelafric, 11 months ago
0
2 min

read
127
By Mbatho Ntan
Religious leaders in Cameroon have frowned at continuous bloodshed Cameroon since 2014 when the government launched a military crackdown against Boko Haram insurgents in the Far North region. Though apolitical, the religious leaders meeting in Buea examined that the government cannot win the war going on in the Anglophone regions with the use of bullets and the military.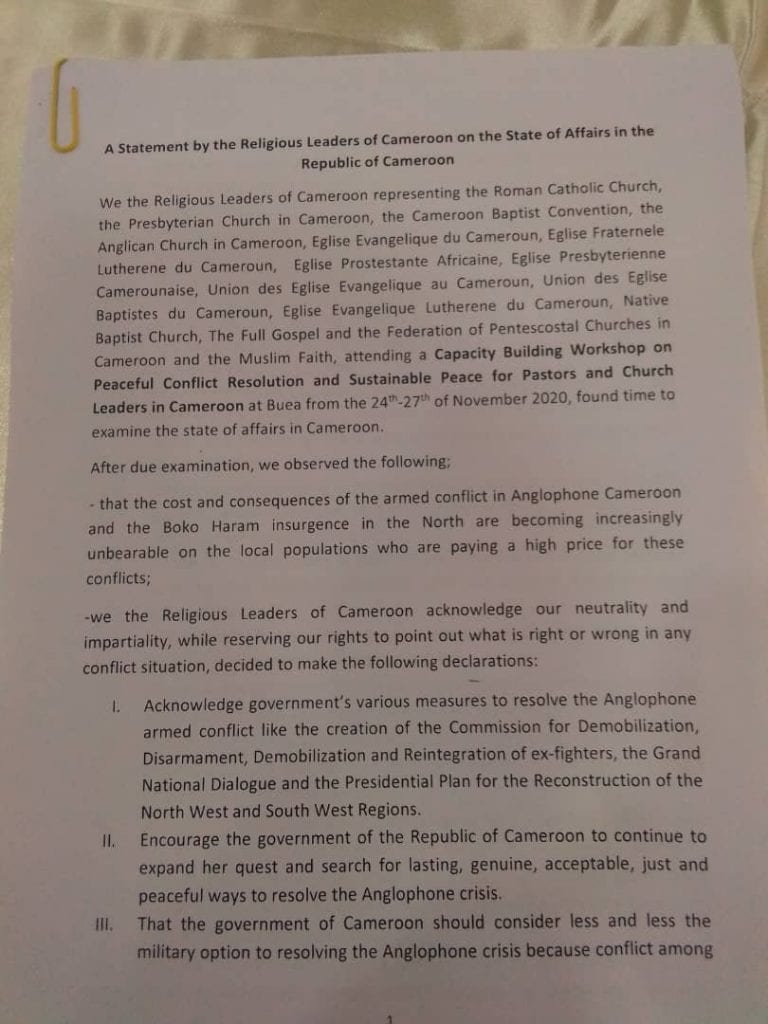 In a declaration issued Friday, November 27th, 2020 in Buea, over fifteen religious groups among them the Roman Catholic church in Cameroon, Presbyterian Church in Cameroon, Cameroon Baptist Convention, Muslim Faith, recognize the government's efforts to solve the crisis. They point at the organization of the Major National Dialogue, The creation of the National Commission for the Promotion of Bilingualism and Multiculturalism, and the putting in place of National Disarmament, Demobilisation, and Reintegration. Despite this, they regret that peace which is the ultimate goal has not been attained.
The leaders, therefore, have challenged the government to seek mediation that will resolve the crisis to the satisfaction of the two warring factions. "Government should consider less and less the military option to resolve the Anglophone crisis while bearing in mind that it cannot be solved by force. Peace is not kept by force but understanding". They added.
While reminding Cameroonians and most especially the government that human life is sacred and each life is valued by God, the leaders write "…we call on all Cameroonians to be unanimous in condemning every thought, attitude, word and action that only promotes living together without ensuring that we eat together".
Religious leaders have equally examined that some Cameroonians home and abroad both in the government and the private sector are reaping big from the bloodshed. They caution people in this category to refrain from their evil ways, repent, and seek the path of peace.
The church and Muslim leaders attended a workshop on the theme "Peaceful conflict resolution and sustainable peace for pastors and church leaders in Cameroon" in Buea.
Mbatho Ntan for Mimi Mefo Info
Related posts